Sapphire GPRO 4300 4GB
GPRO 4300 4G GDDR5 PCI-E QUAD MINI DP
4GB GDDR5 memory
128-bit memory interface
Four Mini DisplayPort 1.4 outputs
AMD Eyefinity multi-display technology
Up to 4 x 4K resolution display @60Hz
Low Power Consumption <50W
Description
4th FinFET GCN (14nm) Architecture
The latest 14nm FinFET process and AMD's advanced power, gating and clocking technologies for a superior cool and quiet working experience. 4th FinFET GCN (14nm) architecture incorporating exciting features and improvements for virtually every area of a graphics chip. Look for: increased levels of performance, smooth VR, seamless support for next-gen gaming monitors and CPU-free game streaming or recording.
AMD Eyefinity 2.0 Multi-Monitor Technology
The next generation of AMD Eyefinity multi-monitor control technology is here, featuring all-new support for stereo 3D, universal bezel compensation and brand new display configurations.
AMD Eyefinity 2.0 enables:
Easy multi-display setup and customization
Virtually unlimited number of display devices
Stereo 3D-multi-display stereoscopic 3D support via DisplayPort 1.2
16K * 16K maximum display group resolution-output up to 268 megapixels per GPU
Full 30-bit Display Pipeline
With a full 30-bit display pipeline producing more than one billion colors (10-bit per RGB component). The GPRO series is ideally suited for applications that benefit from accurate color reproduction and superior visual quality.
Screw Secure Lock for miniDP
For a more secure display connection, the SAPPHIRE GPRO / GPRO E-series feature a screw secure lock. This ensures that the plug and graphics card are securely connected removing the risk of disconnection.
Bezel Compensation
Stretch display resolutions to prevent bezel interference and image distortion when displaying a single large image across multiple displays.
Discrete Digital Multi-Point Audio(DDMA)
DisplayPort 1.2 simultanesously outputs multiple, independent audeo streams.
PowerTune
This state of the art power management technology provides direct control over GPU power usage. Applications enjoy ultimate performance with dynamic clock optimization, while minimizing workstation energy usage.
AMD Zerocore Power Technology
AMD ZeroCore Power Technology is the AMD exclusive innovation. Up to 95% idle power reduction by shutting down GPU.
AMD FreeSync™ Technology
No stuttering. No tearing.
AMD FreeSync™ 4technology allows a compatible graphics card and monitor to dynamically change frame rates for the optimum display quality without tearing or stuttering.
AMD LiquidVR™ Technology
The AMD LiquidVR™ technology is by no means limited to games – the benefits are applicable to a broad spectrum of VR applications, including interactive cinema, education, simulation, telepresence, social media, medical, real estate e-commerce and much more.
AMD TrueAudio technology
AMD TrueAudio technology is all about giving sound engineers the freedom to follow their imaginations and the power to make their video sound as convincing as they look.
AMD UVD (Unified Video Decoder)
Whether you are streaming a video, video chatting with a friend, playing a clip via Windows media player, or watching DVD/Blu-ray, you are most probably leveraging AMD's Unified Video Decoder (UVD) seamlessly. The HD content became popular with the rise of Blu-ray and HD-DVD. It came with huge amounts of data to be compressed, which led to the development of computationally extensive standards such as H.264 and VC1. UVD is a dedicated hardware video decoding block that facilitates the full, bit-accurate decoding of VC-1 or H.264.
Frame Rate Target Control (FRTC)
Frame Rate Targeting Control is a feature that enables users the ability to set a maximum target frame rate when playing an application in fullscreen exclusive mode. The benefits that this may allow a user to experience are reduced GPU power consumption (great for games running at frame rates much higher than the display refresh rate) and reduce heat generation and as a result of that, lower fan speed/noise on the graphics card.
Video Codec Engine (VCE)
VCE is AMD's dedicated fixed-function H.264/AVC video coding engine. One of its primary advantages is that it allows offloading the huge video compression workload to such a co-processor, leaving most of the CPU cycles available for other types of processing. Besides, it exhibits the advantages that come with fixed-function hardware implementations such as the increased throughput and reduced power consumption. Efficient hardware and software architectures of digital video compression systems play a primary role in the enablement of many wide-spread applications such as transcoding, video editing, video conferencing, video streaming, as well as emerging technologies such as wireless display and cloud gaming.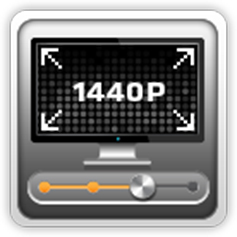 Virtual Super Resolution (VSR)
VSR allows users to render at higher resolutions and then rescales them down to a lower native display resolution. Using this, you can get quality that rivals up to 4K, even on a 1080p display.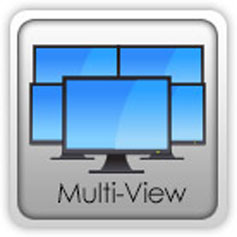 Multi-View Display
With a Dual Link DVI output and DisplayPort output, multi-view enables two 3D displays with independent display resolution, refresh rate, and display roataion settings
Low Profile Design
Enables flexible installation in a variety of computing systems, from small form factors to full-height systems.
Flexible Output Configurations
Support for DisplayPort, DVI and VGA allows IT to leverage existing display inventory.
Low Power Consumption
AMD devotes products into the energy saving for the products to provide our customers with more energy-efficient products through product design, protecting our Earth togethe
GPU
14 nm FinFET
4th Graphics Core Next (GCN)
Memory Size/Bus
128 bit Memory Bus
GDDR5 Memory Type
4GB Size
Resolution
4096*2160 Pixel DisplayPort Resolution
2560*1600 Pixel Dual Link DVI Resolution
1920*1200 Pixel Single Link DVI Resolution
API
OpenGL® 4.5
OpenCL 2.0
DirectX® 12
AMD Features
AMD PowerTune
FreeSync Technology
AMD Eyefinity 2.0
Full 30-bit Display Pipeline
8, 10, 16-bit Per Pixel Color Component Output
Low Power Consumption
Quad 4K Display (8K*4K Support)
AMD LiquidVR™ Technology
AMD TrueAudio Technology
Frame Rate Target Control (FRTC)
Bezel Compensation
Video Codec Engine (VCE)
Virtual Super Resolution (VSR)
Screw Secure Lock for miniDP
HEVC (H.265) Video Decode Acceleration Technology (UVD)
Flexible Output Configurations
Low Profile Design
Cooling
Two Ball Bearing Fan Cooling
Form Factor
1 Part Slot Occupied
68.58*180 mm / 2.7*7.08 in.
181 g / 0.4 lb
HH/HL(Low Profile)
Regulation
FCC / CE / VCCI / BSMI / RCM / KC
System Requirement
400 W Power Supply (Suggestion)
1 x Available PCI-Express X16 Slot
1024MB System Memory
64-bit for Microsoft Windows 7, Windows 10, RHEL, CentOS, Ubuntu and SLED/SLES
DVD-ROM Drive (or Internet Access) for Software Installation
Product Accessory
1x MiniDP to DVI Passive Cable (Single-Link)
Low Profile Bracket
Driver Disc
Optional Accessories
Additional cables can be purchased separately:
MiniDP to DP Dongle (Equipped with Screw Secure Lock)
MiniDP to HDMI 2.0 Active Dongle (Equipped with Screw Secure Lock)
MiniDP to DVI Active Dongle (Equipped with Screw Secure Lock)
MiniDP to DVI Passive Dongle (Equipped with Screw Secure Lock)
Only logged in customers who have purchased this product may leave a review.