Creative Live! Cam Sync 1080p Web Camera Full HD
Enhance your online meetings with the Creative Live! Cam Sync 1080p, which delivers full HD videos at 30 FPS, so you can present yourself professionally with realistic clarity in any environment, whether at home or in your office. UVC compliant and compatible with most popular video conferencing applications, the Live! Cam Sync 1080p is easy to use and quick to set up, so you can be ever ready for your online meetings and video calls, even the last-minute ones!
Description
DISPLAY THE BEST OF YOU
Can't meet in person? Fret not, you can create a similar experience with Creative Live! Cam Sync 1080p! Meet online with sharp and fluid full HD video, where your face is captured clearly and naturally so you can lead the call with complete confidence. Whether it's an important conference call or a casual chat with your buddies, the Live! Cam Sync 1080p displays only the best of you.
SEE MORE OF EVERYTHING
You don't have to sit further away from your screen for the camera to capture more of you. Creative Live! Cam Sync 1080p comes with a wide viewing angle that allows more to be captured without any optical distortion. With 77° diagonal field of view, it's wide enough for you to comfortably fit a small group of people into the frame for a mass conference call, but not too wide that you look small or risk showing too much.
PLUG-AND-CALL
The Live! Cam Sync 1080p is UVC compliant, this means that the webcam requires no additional driver installation and will work immediately when you plug it into an available USB-A port on your computer. It is also compatible with most popular video conferencing applications, so you can set up your webcam quickly and be ready even for the most last-minute meetings.
WORKS WITH:
Zoom
Skype
Microsoft Teams
Cisco WebEx
Messenger
PRIVACY MATTERS
That's why the Live! Cam Sync 1080p comes with an integrated lens cover so you can be in control over what you want to show. Protect your privacy from unwanted access to your webcam via spywares or other hacking tools by keeping your lens covered when not in use. Not only will you be safe from privacy intrusions, the lens cover also protects your lens from dust accumulation, keeping it clean for crystal clear video recording.
SPEAK AND BE HEARD
Speak directly at the camera without having to use a separate mic and still be heard loud and clear. Creative Live! Cam Sync 1080p comes with dual built-in microphones to allow for better audio pickup, so you can speak confidently at a comfortable volume without straining your voice.
Having dual microphones also means that you can have accurate reception over a wider area, and not have to squeeze or fight for the mic with your friends or family members during a group call.
FIND YOUR BEST ANGLE
Find your best angle and look your best in any video call! Creative Live! Cam Sync 1080p allows 360° horizontal rotation and 30° vertical tilt, so you can pivot the webcam around at will. The universal mounting clip that comes with the webcam also allows you to mount it on any laptop or desktop monitors, and even includes a tripod mount plate so you can attach it to any universal tripod* for more versatile placements too.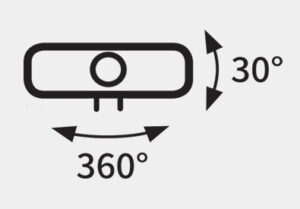 Only logged in customers who have purchased this product may leave a review.